qPad: A simple bidirectional text editor
qPad is a simple standalone Unicode notetaking and text app for Windows. It can be a good alternative for Windows' Notepad; just start your paragraph with a Right-to-left language (such as Arabic, Persian, Hebrew, Urdu, etc) or a RTL Mark to make it right-aligned!
Simple and Lightweight
qPad has built using C++/Qt and can be run on all Windows versions without any installations required; Also unlike electron-based editors such as Typora, it has a very quick startup and takes least memory possible!
---
Handy Find and Replace Tool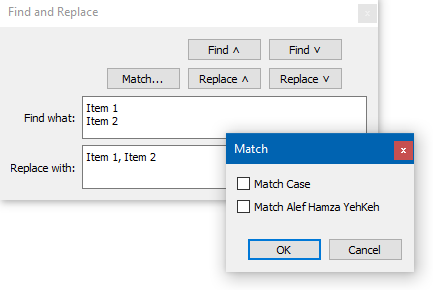 You can find multi-line expressions (pressing Ctrl+Enter makes a newline) and replace them with another expression. If you are typing in Arabic or Persian languages, you can keep 'Match Alef Hamza' unckecked so there would be no differences between 'أساسي' and 'اساسی' in results.
---
Detect file's encoding
When you load a file, if it has an encoding other than UTF-8, a list of possible encodings shows up and you can open the file with the proper encoding.
---
Download qPad 1.1.6 for Windows right now! (Installer doesn't work for Windows XP and Server 2003. Use portable instead.)
Leave a reply!
---
---
Justin - https://royalcbd.com/
Long time supporter, and thought I'd drop a comment.
Your wordpress site is very sleek - hope you don't mind me asking what theme you're using?
(and don't mind if I steal it? :P)
I just launched my site --also built in wordpress like yours-- but
the theme slows (!) the site down quite a bit.
In case you have a minute, you can find it by searching for
"royal cbd" on Google (would appreciate any feedback) - it's still in the
works.
Keep up the good work-- and hope you all take care of yourself during the coronavirus scare!
Reza: Hi and thank you for your comment:) Actually I don't use Wordpress, it's only PHP codes plus some Bootstrap elements I copied directly from getbootstrap.com and other sources. Yea sometimes Wordpress looks like a little heavy I don't know how to fix it..
I wish you and all people pass from this virus without any problems❤️
---